Allure Condominiums outside at 3411 Pembina Highway�See Todd Lewys Story- July 28, 2014 (JOE BRYKSA / WINNIPEG FREE PRESS)
These days, everyone seems to want to own a home – whether it's a single family home, or condo – in the Waverley West area.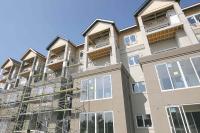 While that area is extremely popular –and deservedly so — there's another area a bit farther east in St. Norbert (just south of the Perimeter Highway) that may be of interest to young couples, young families or empty nesters looking for a new home in the city's southwest quadrant.
Built by Irwin Homes, Allure Condominiums is a 72-unit, four-storey complex found at 3411 Pembina Highway on the thoroughfare's north side. Featuring east and west exposures, the suites range in size from 748 square feet (one bedroom units) to 1,306 sq. ft. (two bed, two bath units).
According to Irwin Homes' Andrew Koop, the complex was built with two things in mind.
"We wanted the building to have a distinctive look, which it will have with its acrylic stucco/low-maintenance siding exterior and beautiful landscaping," he said. "Second, we wanted to provide exceptional value. Each unit comes with six appliances and it's own forced air heating and cooling system. Granite or quartz countertops come standard, and one heated or two outdoor parking stalls are included in the purchase price."
He added a third thing was kept in mind while the suites were being designed.
"We wanted to make each suite as functional as possible, with a logical floor plan that optimized space, light and storage. I'm really pleased with how the units are turning out."
If you use the two-bedroom display suite as a benchmark, you'd have to say Koop and his design team at Irwin Homes hit the mark. For starters, the finishing quality of the suite is impressive: engineered hardwood floors, brown thermofoil cabinets, levered doors with routered details, granite countertops and a white tile backsplash.
It feels as if you're in a single detached, custom-built home rather than a condominium.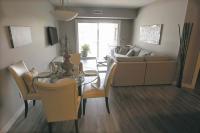 "I think the reason for that is that we're custom home builders by trade," Koop said. "Each unit has been professionally designed and decorated, so everything is in the right place, and all the colours work together extremely well. Every customer will be able to pick the colours and finishes they want —it's just something we naturally do as a custom builder."
Another design element that comes naturally is layout. Like their homes, the Irwin-designed condominiums are simple in their design — linear, with plenty of space, large windows for loads of light, and a neutral colour palette exudes a quiet elegance.
That feeling of space and light absolutely permeates the main living area of the 1,140 sq. ft. display suite.
"We didn't want to sacrifice light, so we put eight-foot patio doors on the front of each unit that not only make for a nice, bright interior, but makes it extremely easy to access the patio or balcony. You're going to be spending a good portion of your time in your home, so it should be naturally bright to make it as livable as possible."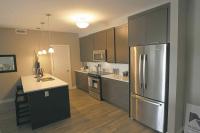 The other part of the livability equation is space, and that's not lacking either.
"Pretty much everyone who's viewed the display suite has been surprised by how big the kitchen is – it goes across most of the suite's front wall (next to the entrance)," said Koop. "It has a nine-by-four-foot island with (cream) quartz countertop and double sink, lots of cabinet and counter space, and an off-white tile backsplash that really makes the dark brown (thermofoil) cabinets stand out."
The next surprise — and it's a pleasant one — is the size of the dining area.
"In this case, we put a big, round table for four in there," he said. "There's plenty of room for that, and you wouldn't even have a problem putting a longer table in there as there's lots of room for it to extend out if you're entertaining."
Then, there's the adjacent living room, which is also generously sized.
"You know, we purposely put a huge sectional in there to show just how big the area is. As big as it is, there's still plenty of room to move through to the patio doors and have a TV and entertainment unit on the wall. Again, it's a nice, bright space that's also warmed up nicely by the dark hardwoods."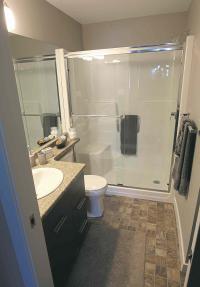 Meanwhile, the two bedrooms have been placed either side of the main living area with the master suite to the right, and second bedroom — as well as a four-piece bath and huge laundry/storage room — to the left.
"The idea behind that design was to maximize function and privacy. For example, if you're an empty nest couple who likes to entertain guests from out of town, the second bedroom is across the way with its own bathroom. That way, you both maintain your privacy. At the same time, the laundry room is a big, functional space that's convenient, and out of the way."
Last but not least is the spacious master suite, which comes with a huge window, tray ceiling, walk-in closet and three-piece ensuite.
"It's a big space with plenty of room for furniture, good-sized walk-in closet and ensuite with low-step-over shower," said Koop. "You not only get a very livable, well-finished suite, but amenities like indoor parking, an exercise room and a common room in a great location. I think the value here is pretty hard to beat."
lewys@mts.net